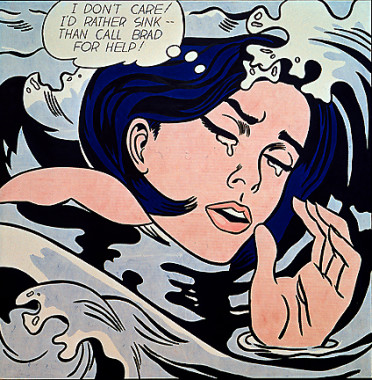 While planning my trip to London, I found out that the Roy Lichtenstein Retrospective exhibit was at the Tate Modern, and it was ending around the time I had wanted to head across the ocean. Essentially, I ended up planning my trip around this exhibit and a few concerts (Bleached and Parquet Courts in London, The Undertones and Jokers of the Scene in Paris. Unfortunately I had also planned to see Cayucas (sold out) and Bass Drum of Death (got to Paris 2 hours too late) but missed both shows.)
I'm not quite sure why I've always been so drawn to Lichtenstein's work, but I have. I've been using Girl with Hair Ribbon as my online avatar for over a decade, and have plans to get a variation of it as part of a tattoo sleeve.
I had previously missed a Lichtenstein exhibit in NYC by only a few hours after making the mistake of thinking I could just "find my way around the city." Fast forward to a few hours later when I finally realize that I'm lost and that the museum is closing in about half an hour anyway. I wasn't going to miss it this time.
I had the chance to see Drowning Girl at MoMA while I was in NYC, and it was in the Retrospective exhibit, so it was neat to see the same piece in two different cities. I wish I could have snagged a picture of myself with some of my favourite works, but there was a strict no camera policy and the security guards were watching everyone like hawks. I tried to sneakily take a picture, but a small child saw me and screamed out "MUUUUUUM THAT LADY JUST TOOK A PICTURE WITH HER PHOOOOOOONE!" which caused the entire room to turn and look at me, and the security guard lady to scowl, so I didn't risk taking another.
It's still my goal to see Girl with Hair Ribbon in person, but from what I can tell it's in a private collection, so my chances are pretty slim. Still, I was so happy to finally have the chance to see a Lichtenstein exhibit, and decided to bring a piece back with me in the form of a poster, which shows a huge lack of foresight on my part, seeing as how a rolled up poster isn't exactly the most travel-friendly item when you're backpacking across several cities. It's framed in our house now, but not without a few rips and wrinkles.
Another one ticked off the list!